Filling a CHC Medical Claim
Should only take a few minutes after you have all the necessary documents.
Click the "Start a Medical Claim" HUG.  The CHC Medical Claim Form will appear. Enter your responses directly on the form.  When completed, save the completed Form for your records.  Send the saved Form to CHC Processing.
The fastest method is to attach all your CHC Medical Claim Form and your medical claim documents to an email.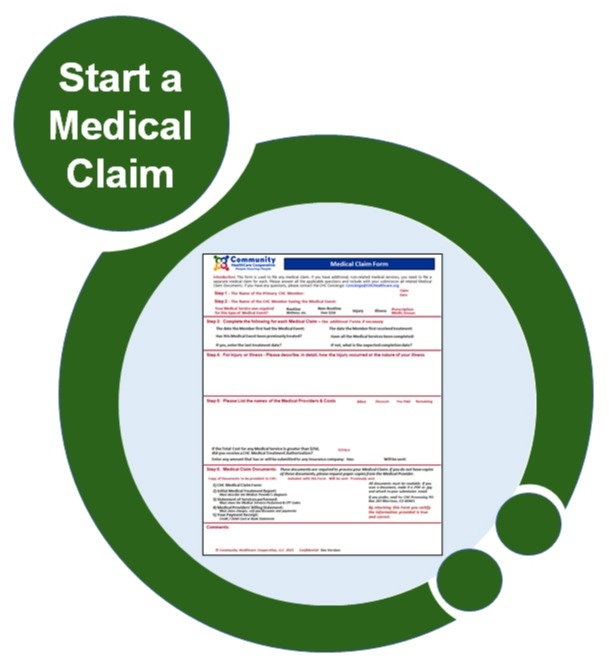 Instructions: Filling a CHC Medical Claim
Medical Provider Documents: The following documents are necessary to process your medical claim reimbursement. 
The documents should be given to you at check-out.  If you don't have copies of these documents, please contact each of your Medical Providers and request a printed copy.
Readable: Each document must be in a PDF format or a legible paper document.
Medical Claim Documents
✓  The CHC Medical Claim Form:  The Medical Claim Form is used to open a Medical Claim.  The Medical Claim Form collects information on your Medical Service.  Please answer all the applicable questions.
✓  A Statement of Services (SOS):  The SOS describes each performed Medical Service.
The SOS may have other names and may include multiple documents. For instance, it may be called the Intake Report or Initial Physician's Report.
The SOS must describe; (a) the initial medical analysis performed by each Medical Provider, (b) the description of the cause for the Medical Event, (c) the Medical Services performed, and (d) discharge notes. The SOS is required for processing your Medical Claim.
➪  Routine Medical Services: Usually there is one Statement of Services and one bill from one Medical Provider. For an annual wellness there may be an additional Lab and Test bill.
➪  Non-Routine Medical Services: Usually there is more than one Medical Provider. Each Medical Provider's Statement of Services and medical bill is treated separately when processing your entire Medical Claim. 
Frequently the Medical Provider's Medical Claim Documents will be received by you at different times. 
Send the Medical Claim Documents to CHC when received.  CHC will process each when received, thereby speeding up your reimbursement.
✓  The Billing Statement: The Billing Statement shows the itemized cost for each medical treatment provided by the Medical Provider including CPT codes and any adjustment in the cost for Self-Pay, No-Insurance and other discounts.
✓  The Payment Receipt: A copy of your payment receipt (credit or debit card) or other evidence showing your payment at the time of the Medical Service or the amount owed to the Medical Provider.
Submitting Your Medical Claim
✓  Preferred Method:  Send an email to [email protected]
➪  Slower Method: You can postal mail the documents to:  Community Healthcare Cooperative 16591 Red Cliff Cr. Morrison, CO 80465
Testimonials
What Our Customers Are Saying!
Customer Satisfaction Is Our #1 Priority
Community Healthcare Cooperative saved our family $905 per month. We were paying $1,441 per month for an employer plan. Community Healthcare Cooperative lowered our cost to only $535. And we have an affordable co-pay and no deductible or co-insurance.
S. Morrison
We offer a Group Healthcare plan to our employees. Because of the cost we only had a 25% participation rate. We also had complaints because of the cost to add family members to the Group Plan. With CHC we have a much higher enrollment and happy employers who have families.
P. West
No one told me I had to pay $7,000 to use my Group insurance until I talked with a CHC Rep. Who has $7,000 to pay medical bills? I sure didn't! Now I have a CHC plan with a $1,000 max out of pocket.
S. Thelian
We had to decide between our healthcare insurance plan and our favorite doctor who wasn't "In-Network". We stayed with our doctor and purchased a CHC Healthcare plan.
B. Martin
Our choice was to pay $1,456.60 monthly or go without healthcare insurance. We chose no insurance. We simply couldn't afford the cost. That is until we found CHC.
K. Habermann
I was able to get my cat and dog covered on the same CHC Plan we have. Sweet!
K. Yagi
I'm a waitress. My company has a healthcare plan I can't afford. Community Healthcare Cooperative got me insurance for only $68 a paycheck.
L. Wilson
I received $50,000 in medical bills from a hospital and four different doctors and medical companies. Most I didn't even know. My Community Healthcare Cooperative Concierge sorted out the bills, negotiated them down to $18,000 and helped me setup a payment plan I could afford. Thanks.
R. O'Dell
I needed help paying my medical bills. My neighbor introduced me to the Community Healthcare Cooperative's Benevolent Fund. Now I have a community of people helping me pay my medical bills.
M. Yates
When I switched to CHC from traditional insurance, I took some of my savings and funded my CHSA. CHC matched my monthly deposit and gave me 5% interest on my deposits. Just like getting "Free Money"
J. Klein
I needed help paying my medical bills. My neighbor introduced me to the Community Healthcare Cooperative's Benevolent Fund. Now I have a community of people helping me pay my medical bills.
M. Yates
I'm a 61 year old male. I don't need to pay for maternity coverage! That's why I went with CHC and not an Obamacare plan.
G. Fitz
I'm on an ACA plan and got a big federal subsidy to lower my cost. That was great until I found out what I had to tell and do for the IRS to keep my healthcare subsidy. Now I'm looking for a better healthcare plan.
Anonymous
I told several of my friends and relatives about Community Healthcare Cooperative. I now get a $60 per month reduction in my own healthcare costs. Sponsoring CHC Members does really lower your healthcare costs! You should do it!
T. Cook
I like helping people, so I became a CHC Representative. I now have a new business with a great income and future!
D. Baldwin
Our Community Healthcare Cooperative Concierge helped us file a medical claim and we got a $15,000 cash reimbursement.
Martin, B.
Our healthcare plan does not have doctor visits or medications until we pay a $8,000 deductible. We purchased CHC. Now we have as many doctor visits as we want with a small Co-Pay.
Le, E.